Search MLS for Warehouse District Homes for Sale
The Warehouse District is located on the westside of downtown Salt Lake City close to the rail lines. Once the stockyard of Salt Lake, it now contains warehouse loft condo conversions and is home to Salt Lake's artist community.
Warehouse District Overview / History
The Warehouse District dates from the late 1800's when it was used as a stockyard for Salt Lake City. It grew over the years, fueled by the opening of the Rio Grande depot in 1910 and Union Pacific depot in 1908 to became a large and busy warehouse district.
It addition to the warehouses the area was also home to a large Greek population and was known as Greek Town. In 1923 The Holy Trinity Greek Orthodox Cathedral was built at 279 S 300 W.
Today many of the warehouses have gone and those that remain have been converted into condo's or are home to local artist boutiques and galleries. It is home to Warehouse District Lofts, Dakota Lofts, Westgate Lofts and Pierpont Lofts among others.
The area is also home to the Gateway Shopping Center, the Vivint Smart Home Arena (previously called the Delta Center) and Pioneer Park.
in 1982 the area was added to the National Register of Historic Places and was enlarged in 2016. The district's boundaries are roughly encompassed by I-15 to 300 west and from 50 north to 1000 south.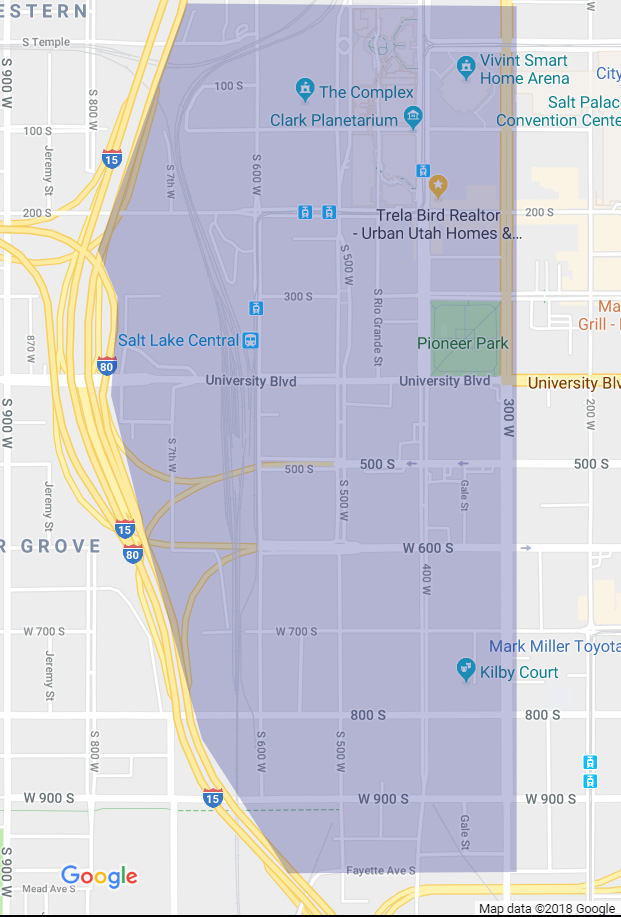 Warehouse District Home Listings
Nearby Amenities
Gateway Shopping Center, Vivint Smart Home Arena, Pioneer Park
Nearby Communities
Angelinas Corner
Heaths
City Park